the EA Institute
The Productive EA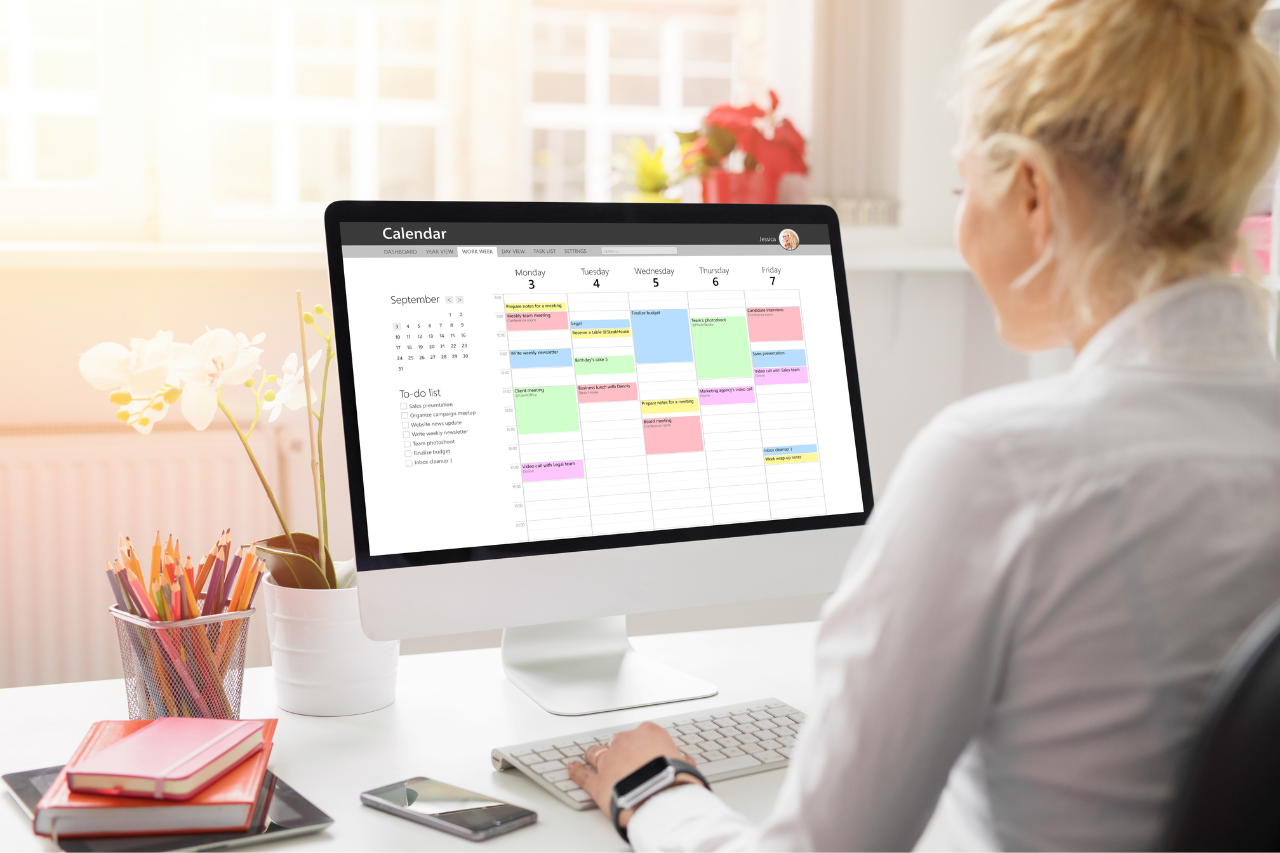 The Productive EA Short Course is a live, online 2 day course.
Learn how to manage your time and plan with competing timelines to leave work with peace of mind knowing that you have everything under control.
Discover techniques to work smarter, not harder, so you can be free to enjoy your evenings without the stress of your to-do list looming over you.
> Explore real-life case studies & challenges that EAs and PAs face daily
> Streamline your never-ending to do lists to supercharge your productivity and effectiveness
> Discover practical techniques & solutions using Outlook to implement immediately for improved performance
> Includes access to The EA Institute Growth Hub community platform for 1 year
I'm ready to master my productivity!
$1,499 AUD +GST
Existing Growth Hub members discount applies, log in to Growth Hub for details.
The Productive EA
Structure
Over these guided modules, Executive Assistants will learn to overcome the challenge of competing demands and distractions, and flip their mental state for complete mental control and engagement with their best work.
Module 01: Productivity audit
Discover the current condition of your productivity and learn the limitations of how you are working now. Uncover the mountain of tasks you're sitting on and how this way of operating is restricting your effectiveness.
Module 02: A new way of working
Discover a new way of working that will leave you less overwhelmed and more empowered. Learn how you can increase your effectiveness immediately. Take on a new perspective that will give you access to your productivity breakthrough and shift the way you work so you leave work every day with power, freedom and peace of mind.
Module 03: Work habits
Understand where overwhelm comes from and how-to breakthrough it for good! Reveal the automatic thoughts and actions that are stopping you from being effective and replace them with empowering habits. Create a new way of operating that leaves you with peace of mind when you leave work at the end of the day.
Module 04: Productivity tools and workload management
Understand the 'getting things done' workflow, including what work comes in and what work goes out. Get everything out of your head and into a structure that means fewer things 'fall through the cracks'. Learn why we get stressed and what to do to overcome that. Discover the consequences of 'loose ends' on your capacity to think.
Module 05: Best practices for increased productivity
Overcome email overwhelm, learn how to effectively handle emails without missing anything. Reveal the limitations of traditional 'task lists' and implement strategies that are more effective. Discuss meeting protocols and share insights that create smarter and faster meetings. Discover the best practice for managing calendars.
Module 06: Live implementation
Implement what you have learnt in real time, bring your laptop to action the framework live with Amanda. Go through the new systems and structures step-by-step so that you can hit the ground running when you start work the following day. Ask any questions while implementing.
Learn to communicate in a clear, concise and timely manner to proactively support your boss
Achieve the ability to influence and negotiate with external and internal personnel
Gain assertiveness skills and elevate your ability to listen
Overcome stress, overwhelm and emotional reactivity
Plan efficient meetings, with clarity of purpose and intended outcomes
Decrease email disruption
Create a line of sight between day to day actions and strategic priorities
Develop individual work habits that increase the productivity of your team
The Productive EA
What Our Clients
Say
Amanda's passion for transferring her knowledge and supportive follow-up mentoring, led me towards embracing greater responsibilities within the organisation. From participating in one of her training sessions, I now feel empowered to take on a greater level of leadership within our business and support our director in a new way.Thank you, Amanda, for your patience and expertise in guiding me though the learning process.

Thanks very much again for this training. It was exactly what I needed. I am very much a systems person and have been struggling over the last year and a half or so to figure out something that captured absolutely everything and had a super simple, adaptable workflow (honestly, the number of apps I've run through trying to make something work is a little bit terrifying). I took to your framework like a fish to water, and having exactly what I knew I needed laid out for me was such a help. Next step—personalize.I appreciated the emphasis on the mindset shift as I am definitely guilty of stressing over the length of to-do lists and trying to get it done. It's so relieving to know that everything's noted and will be taken care of in due time.